Three Decades of Changing Minds
Nicola Maksymuik, Archivist at Glasgow Women's Library (GWL), discusses how they have just embarked on an exciting National Heritage Lottery funded project to interpret and safeguard their history, just as the Library is about to celebrate its 30th anniversary in September 2022.
From its inception in 1991, GWL has grown from an unfunded grassroots group run by volunteers to a world renowned , award winning institution with unique archive, library and museum collections dedicated to women's history. As well as the archive and artefact collections that have grown over its 30 year history, the library also runs an innovative seasonal programme of public events and learning opportunities. Among its core projects there is also an Adult Literacy and Numeracy project; a Black and Minority Ethnic Women's project and a National Lifelong Learning project that delivers events and resources across Scotland. All of the library's projects and programmes, from the Women's Heritage walks to the EDI focused Decoding Inequality, utilise the archive and museum collections in their work and the collections inform and underpin almost everything that the library does.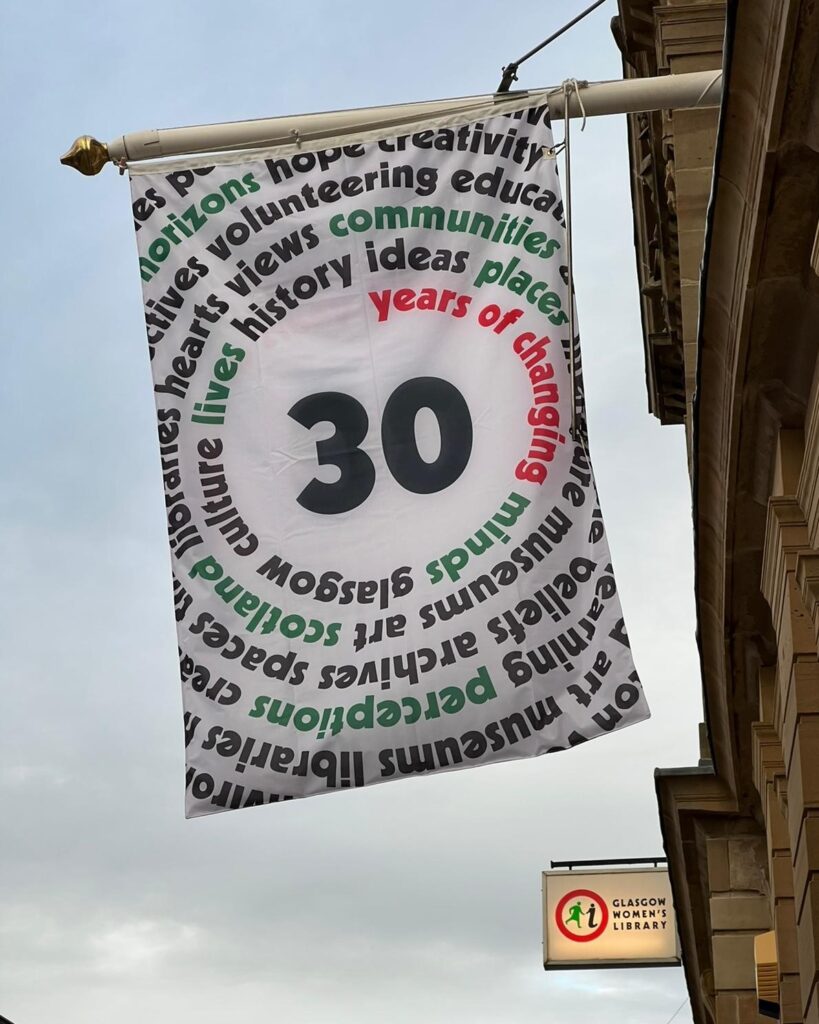 The library grew from an arts organisation called Women in Profile (WIP) who were established in 1987 in response to a lack of representation of women in the arts during Glasgow's year as European City of Culture in 1990. WIP were a group of artists, activists, academics and students including one of GWL'S current directors Adele Patrick, who came to be a founding member of the Glasgow Women's Library. WIP ran projects, events, workshops and exhibitions in the lead up to 1990.
These projects included Castlemilk Womanhouse, a project which saw artists from across the UK work with women and children on Castlemilk Housing Estate in Glasgow. The project turned four flats in an empty tenement block into a living artwork, which became a meeting place and a centre for social activity.
After 1990 WIP found that they had gathered a great deal of material documenting their activities and thought it was important to have somewhere to preserve this material for the future. This was the impetus for founding Glasgow Women's Library which opened its doors in September 1991 in the Garnet hill area of the city.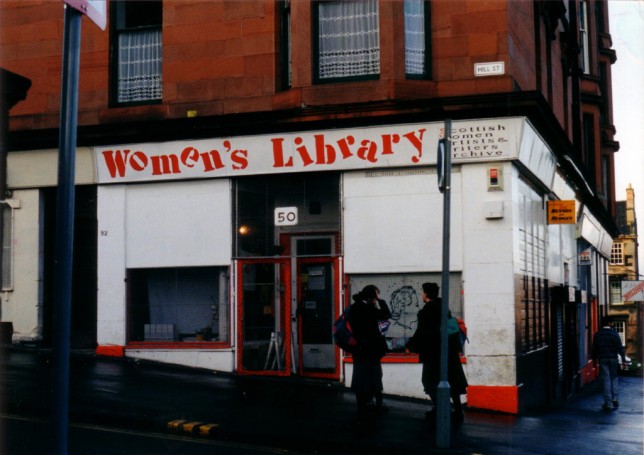 The material that documents this pioneering group of women's work now constitutes the Woman in Profile Archive which comprises original artwork, posters, leaflets, flyers and ephemera relating to the group's activities. This material marks the genesis of the archive documenting the birth and growth of GWL over nearly four decades, charting its development, relocations and occupation of six different premises, and the expansion of its collection.
Other early material includes meeting minutes and correspondence recording activities and milestones such as WIP becoming Glasgow Women's Library in 1991 and the planning of projects and partnerships. There is an extensive photographic collection both analogue and digital and GWL's day to day history can be seen through our hard copy programme of events which hold a wealth of information about activities running right up to 2020.
The archive holds a collection of press cuttings and media coverage that goes back to the early days of GWL alongside documentation of our capital refurbishment project including the architectural plans. Since it's inception GWL has pioneered as an example of good practice in Equality, Diversity and Inclusion (EDI) across the arts, heritage, learning and voluntary sectors we inhabit. Through our 'Equality in Progress' and 'Decoding Inequality' projects, we have delivered bespoke training in EDI to a wide range of cultural institutions across the UK. Our own collection evidences our long term commitment and passion to our core values of EDI.
Over the next two years the collection will be catalogued, digitised and interpreted. Key pieces from the collection linked to prioritised project themes (from anti-racism to environmental awareness) will be digitised and all will be accessible via our archive catalogue on a redesigned GWL website. Our records are of interest to different people for a huge and increasing number of reasons. As a feminist organisation with over 30 years of history, we believe this project is of great importance and will allow us to safeguard our organisational history. It will also allow us to greatly improve access, discoverability, and engagement among our communities, both within and out with the physical GWL archive space.
Glasgow Women's Library website: https://womenslibrary.org.uk/