TWL.2003.349, Women's Resource Centre, From The Women's Library at LSE
The Women's Library at the London School of Economics and Political Science.
Gillian Murphy, Curator for Equality, Rights and Citizenship at The Women's Library (LSE) preserves and promotes the special collections held there. Collections include records of the Women's Liberation Movement, women's suffrage and Feminism and religion. For this month's featured archive, to celebrate both International Women's Day and Women's History Month, Gillian Murphy discusses the Women's Liberation Movement of the 1970s in more detail.
Saturday 6 March 1971 saw the first national demonstration of the newly-formed Women's Liberation Movement in the UK. In the previous March, women had met at the first women's liberation conference at Ruskin College in Oxford to discuss the many challenges they faced. By March 1971, the women had four demands (three more demands were added in later years) in a hope to #BreakTheBias, the theme of International Women's Day 2022. These initial demands were:
1. Equal pay
2. Equal education and job opportunities
3. Free 24-hour nurseries
4. Free contraception and abortion on demand
These demands were printed on posters and banners.  Here is one of them: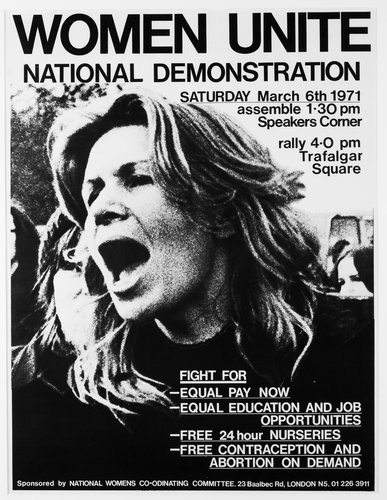 You can see this poster at the beginning of this short video of UCL students at the march. Interestingly members of the Gay Liberation Front (another social movement holding its first meeting at LSE in October 1970) were also there as you get a glimpse of their banner in the video clip. The Women's Liberation Movement was a grassroots movement, and after the 1971 march, hundreds of women-only consciousness-raising groups emerged meeting regularly around the UK during the 1970s and into the 1980s. Women met to talk about their circumstances and experiences as women, as mothers, as wives, isolation in their homes, their health, assumptions about sexuality, their status, their availability. The Women's Library holds many of the newsletters produced by these different groups eg Nottingham Women's Liberation newsletter. Many campaigns grew out of these small women's liberation groups including the right to choose abortion, to stop violence against women, Reclaim the Night and to end sexual discrimination. More information about the collections we hold relating to these campaigns can be found here.
LSE's Women's Liberation group started in the autumn of 1971. Their first leaflet outlined why there should be a women's liberation group, why they believed women's lives were considered less important than men's, and why they held women-only meetings, although men could attend general meetings. They wanted to break down roles and barriers.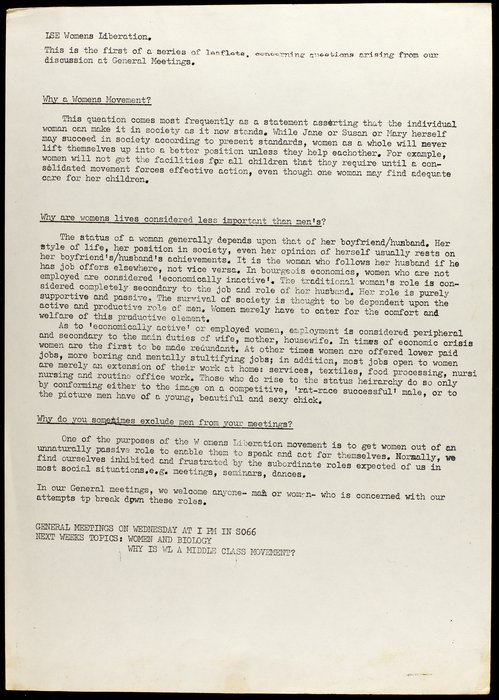 Many women's voluntary and community groups arose out of the Women's Liberation Movement and played their part in campaigning for women's rights. Their stories are often untold although we do hold some archives such as Essex Road Women's Centre and Maternity Alliance (still active today as Maternity Action). We supported an oral history project, run by the Women's Resource Centre, to interview 25 current and past leaders in the Women's Voluntary and Community Sector, produced as part of a Lottery Funded heritage project, and these histories will be added to the Women's Library. You can see a launch event here: Sisters Doing it for Themselves.
Finding out more:
*About The Women's Library
*Our digitised women's liberation posters from The Women's Library.
*Our current library exhibition 'Out of the Box' displays some documents from the Ruskin conference along with other items from the collection on the theme of families and parenting.
*And these talks:
Daring To Hope: Sheila Rowbotham and Sally Alexander in Conversation – YouTube
Storying Feminist History: an oral history of the UK Women's Liberation Movement – YouTube